Weddings & Events
Live Music for Weddings, Parties & Events
Watch Scenic Route perform at a wedding cermemony and drinks reception filmed at St.Ives Harbour Hotel, Cornwall
Live Music on your wedding day
Scenic Route have become a popular live music choice for weddings and events in the South West. With their melodic, stripped back performance they are one of Cornwall's most experienced, professional music duos.
Celebrate the magic and memorable moments of your wedding day with live music from experienced musicians. Jenna's angelic voice and Steve's accomplished guitar playing are the perfect accompaniment for your Ceremony, Drinks Reception, Wedding Breakfast and/or Evening Reception Pre-Party.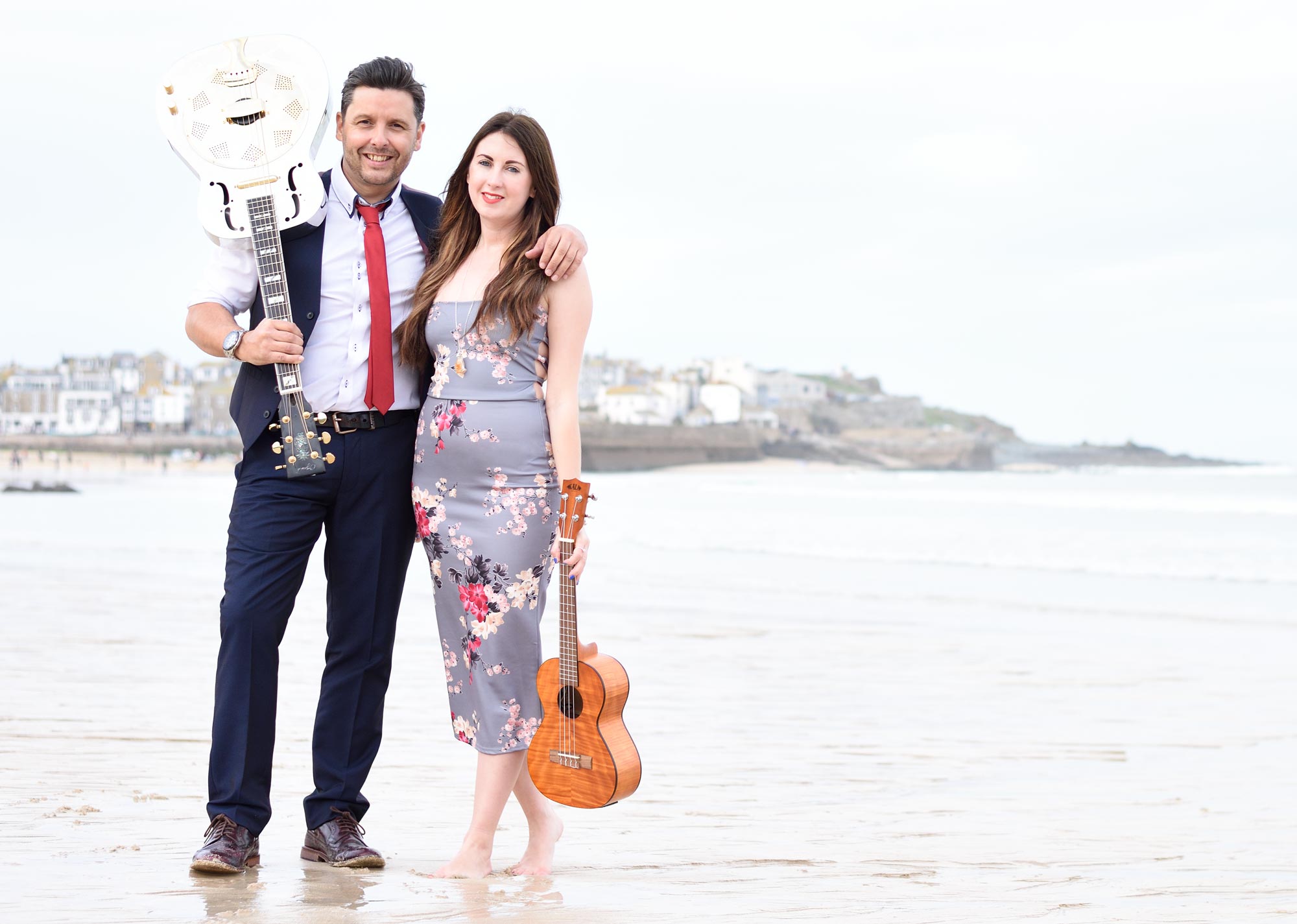 The Ceremony
Make your Ceremony truly special with an intimate performance by Scenic Route. With beautiful vocals and live acoustic guitar, this is the perfect way to personalise your Ceremony. Experience live music as your guests arrive, as the emotive backdrop as you make your entrance, while you sign the register as newlyweds and as you exit to start your married journey together (30 - 45 minutes in total). Scenic Route offer an extensive set to choose from, whether they're modern hits or well-known classics.
The Drinks Reception
Whilst you're welcoming your guests, let Scenic Route serenade you with 1.5 hours of relaxed and upbeat stylised, acoustic tunes. With a carefully crafted set, they provide a mixture of songs to suit a varied audience. You can enjoy the well-loved classics of Fleetwood Mac and Dire Straits to the vibrant and soulful melodies of Ellie Goulding and James Arthur.
The Wedding Breakfast
This 2 hour unique, intimate performance offers that added sparkle to your special day. The Wedding Breakfast performance includes a collection of timeless and contemporary hits to create the perfect atmosphere. Tailor your day further with the option of instrumental guitar, as Steve plays his classical and flamenco set.
The Evening Reception Pre-party
Entertain your guests during that 'in between' period when you're busy being photographed or there's an hour until the DJ or band performs. Scenic Route uplifts your guests with an upbeat, acoustic set so everyone's ready to party with you into the evening.
Micro Weddings & Elopements
Whether its 30 guests, 15 or just the bride & groom, we can perform an intimate set for you and your guests to create the perfect ambience and make the day truly special.
Commission your special song
If you have that special song which holds such meaning and memories to you both, Scenic Route can learn it especially for you. It's a wonderful way to personalise your Ceremony even further. You can also commission songs for your Drinks Reception and Evening Reception Pre-Party if you wish.
---
Pricing & How to book
1) Request our PDF booklet
Upon your initial enquiry, we will email you a PDF of our prices and packages available. Please contact us today with your enquiry and date you would like to book.
2) Request a tailored quote
If you would like to book one of our packages, let us know which one you are interested in and we will create you a tailored quote based on your requested package. This is so we can give you an accurate cost.
3) Secure you booking
If you would like to go ahead and book, let us know and we will send you an invoice asking for a 20% non-refundable deposit to confirm your booking. Once paid, we'll send you a receipt and we will then be officially booked for your event!
Please note that we cannot hold dates due to a high volume of enquiries. The only way to secure your booking is by paying your deposit.
4) Pay your balance
Three weeks before your event we'll be in touch to double check all information so that you can be sure every detail is accounted for. We'll also email you an invoice to settle the remaining amount which we ask you pay before your event takes place.
---
Our Music Equipment
We use a high quality Bose sound system and bass unit to create a professional sound which is distributed clearly and evenly throughout the room. Bose are renowned for the clarity of their products and providing impressive sound coverage without being overpowering. It is also nice and compact and fits beautifully within a music space with very minimal setup. We also provide subtle LED mood lighting for that extra special touch.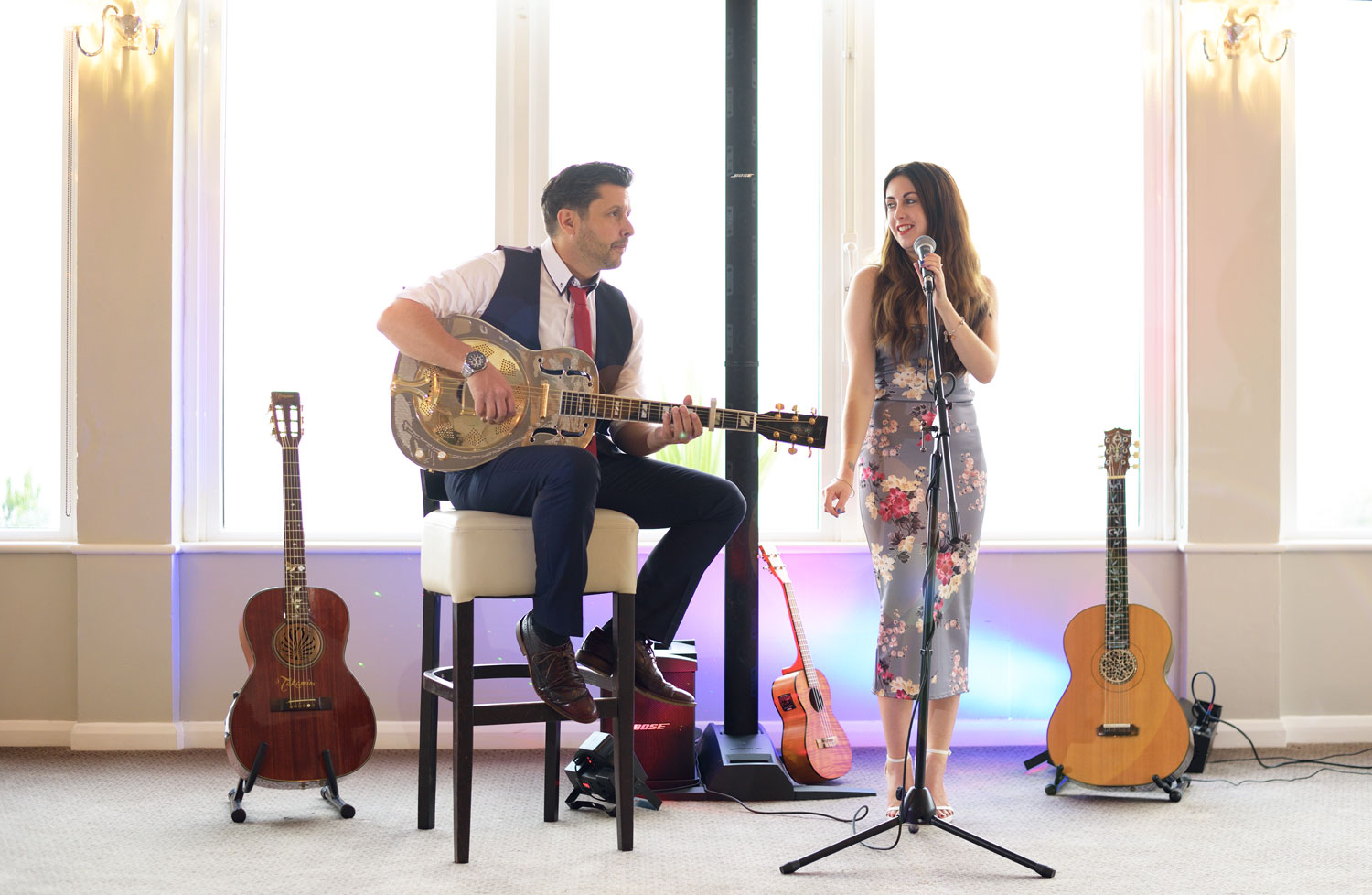 See what our brides and grooms say about having us play their wedding day!
---
Got questions? Read our FAQ section...